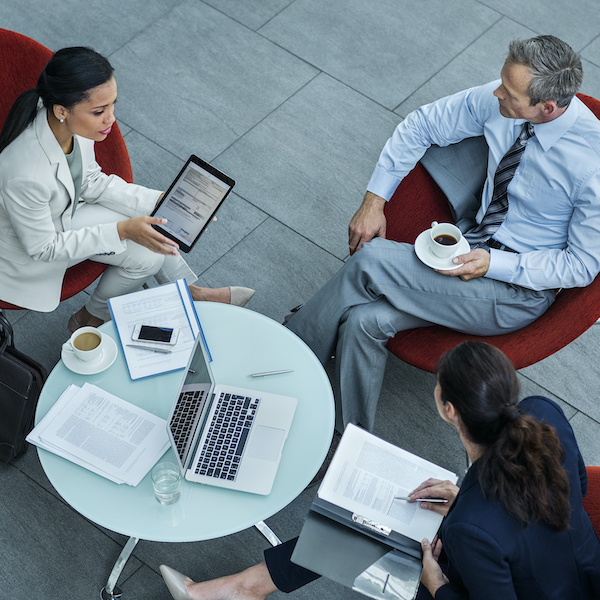 Connecting with Employers
Building bridges for student veterans
Playbook
Make it about business, not charity
Veterans bring a lot to a business: Discipline, teamwork, resilience, loyalty, and focus. This is as true for veterans with disabilities as it is for others. In addition, veterans and others with disabilities perform their jobs as well as other workers.[1] Jobs for veterans with disabilities should never be about pity, or "doing a nice thing." Why? Pity-based hires are not sustainable, being subject to the whims of a few people in the organization. Like anyone else, veterans with disabilities should be hired and fairly paid for the skills, talents, and commitments they bring to the job.
As a career counselor, building partnerships with employers is central to your success. Build these partnerships from a talent, not a charity perspective.
Addressing employer concerns
According to a study by the Center for a New American Security, employers have some concerns about hiring veterans.[2] Here are some highlights from this study:
Confusion about military job skills and titles: Employers can be baffled by military job and task titles, and hence, fear that veterans might not have the skills they need. Use the Military Skills Translator to translate military skills and job titles into civilian language.
False stereotypes: Employers may have unfounded fears about common disabilities among veterans, such as Post-Traumatic Stress Injury (PTSI), traumatic brain injury, or mobility disabilities. Be ready to challenge these misperceptions gently but firmly with evidence. Use the Military.com brief Fix Attitudes and Bust Disability Myths to bolster your points.
Deployment fears: National Guard members and Reservists have a continuing commitment to military service and might be deployed while working. Employers might fear that keeping their jobs open (as required by law) will be a burden. Generally, these fears are heightened for smaller employers, who have less flexibility in work arrangements. To address this fear, discuss deployment possibilities and options upfront. Also, use this U.S. Department of Veterans Affairs toolkit to help employers understand the law around work leave and deployment.
Fitting into civilian workplace culture: Employers might have preconceived ideas about veterans being used to a more authoritarian, hierarchical workplace. Though newly returned veterans might need to adjust to the civilian workplace culture, most will adjust smoothly.
Fears of workplace violence: Some employers might fear that veterans could be more prone to violence than others. This myth is easy to dispel. Get ideas from the NPR article Veterans Fight Misconception: Wartime Service Is Linked To Violent Crime.
Forging a partnership: Do some reconnaissance
Choosing the right business partners involves some reconnaissance. If possible, spend a little time researching businesses in your community (and beyond) that are potential partners in providing work-based learning experiences. Here are some questions and resources to consider:
Will jobs in this company's business sector grow or decline? Check out the Occupational Outlook Handbook.
How might things change? How might their business change in the next 3 years? Check out your local Chamber of Commerce and mingle with those in the community who are in the know about local business trends.
What is the work climate like? Check out employee review sites, such as Military.com, CareerBliss, Firsthand (formerly Vault), Glassdoor, and Yelp, as well as Kununu (Austria, Germany, Switzerland) and RateMyEmployer (Canada).
If possible, reach out to current or former employees to get their take on the work culture.
Be where businesses are
The best way to forge business partnerships in the community is to go where they go to converse and connect. Look for Chamber of Commerce events, local business-related clubs, and business community events. The more real face time you have with businesses, the more you will know how to build bridges—and who you want to build them with.
Target veteran- and disability-friendly businesses
There's no foolproof way to know if a workplace is veteran- and disability-friendly. But here are some questions to pose:
Veteran-friendly does not always mean disability-friendly
Unfortunately, workplaces that are veteran-friendly are not always disability-friendly. There are different voices within the veteran community regarding service-connected disabilities, particularly those that are more stigmatized and misunderstood, such as PTSI, depression, and traumatic brain injury. If you are considering a partnership with a veteran-friendly workplace, ask a few questions about their efforts to include veterans with disabilities.
Clarify expectations and streamline communications
As a career counselor, you're probably doing this already. But here are a few points to keep in mind:
Share and codify expectations: At the outset, share and agree upon brief but clear expectations for how the partnership will be conducted. Define how and how often you'll communicate. Establish a quick and easy way to "take the pulse" of the partnership.
Be mindful of time: Often, disability- or veteran-friendly workplace initiatives are an "add on" task for the business partner you'll be working with. Do whatever you can to help this person move the partnership forward. Be brief and to-the-point with all your communications.
Set measurable and realistic goals for the partnership: Ensure that goals are set that reflect the needs of both sides of the partnership. Be as concrete and specific as possible. What will be accomplished and by when? How will progress toward the goal(s) be measured and communicated?
Streamline communication channels: Communications can easily get lost if there isn't an agreed upon point person on both sides of the partnership. Early on, establish who the point person/people will be—who all communications should be directed toward and who's responsible for moving plans forward.
Consider creating a contract: Even when a contract is not legally binding, it can still solidify expectations and agreements. Create a contract that is concise and brief, perhaps one or two pages. Both parties should sign the contract and celebrate your partnership!
Know about financial incentives, but don't lead with this
Several programs offer employers financial and tax incentives for hiring veterans and veterans with disabilities. Though these are welcome perks to businesses, they might not be enough to drive efforts toward a veteran- and disability-friendly workplace. So, be ready to inform business partners about these incentives, but don't make this the centerpiece of your outreach to potential business partners. Once you've established a business partner, you can add value to the parternship by clarifying what these incentives are and how they can be used. This Department of Veterans Affairs brief outlines the main financial and tax incentives for employers.
Know when to walk away
Certainly an effort should be made to sustain a business partnership. But there are situations when you should walk away. Perhaps things have changed since you established the partnership. The business might have experienced a downturn. Leadership might have changed. Your point person might have left. Veterans placed in these workplaces might come back with negative experiences. If your repeated attempts to deal with these challenges don't lead to improvements, it might be time to walk away for now. You can always re-visit the partnership if things change.
Equal players
Partnerships are most successful when there is an overall sense that the players are equal—when there is an equal sharing of the benefits, costs, and risks. You need something businesses have: effective work-based learning experiences and employment opportunities for veteran students (with or without disabilities). But they also need something you have: a valuable, sustained source of talent for their enterprise.
As a career counselor, what you do matters, not just to veteran students, but also to employers. Don't underestimate the worth of your efforts.
References
[1] Hernandez, B., McDonald, K., Divilbiss, M., Horin E., Velcoff, J., & Donoso, O. (2008). Reflections from employers on the disabled workforce: Focus groups with healthcare, hospitality and retail administrators. Employee Responsibilities and Rights Journal, 20(3), 157–164.
[2] Nargorny, L, & Pick, D. 5 reasons why employers are not hiring vets. Military.com.